Customer Reviews
---
Redon Dining Set
"At long last I can send you a picture of my lovely furniture on the new paving where the lawn used to be. I am so pleased with it. It's just the look I wanted and just the right size for the space. It looks particularly good in the autumn light.
Thank you for your help and advice and for sending me all the information about your products. May I wish you a happy and successful future."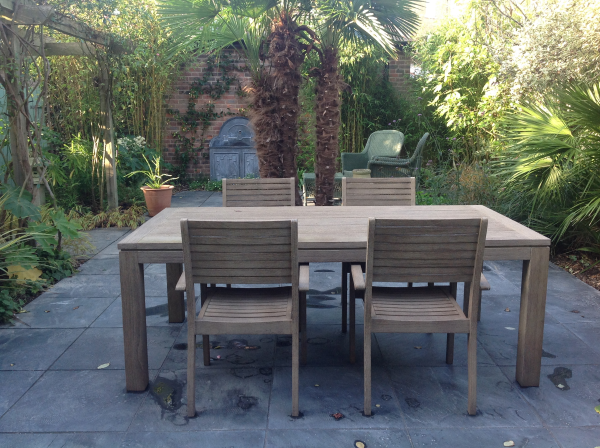 ---
Alexis Table & Deco Chairs - "Really happy with great quality furniture from Verdon Grey, we are so pleased with it"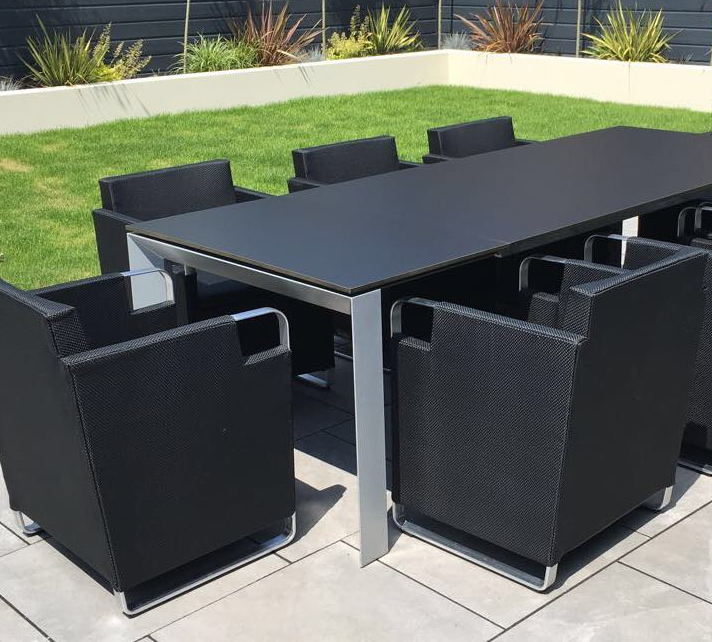 ---
Our table and chairs were delivered so well packed and protected, and they look absolutely fabulous! Thank you so much. Even better at how simply it fitted together – it was a relief not to be stressed by a flat pack :-)
The poor driver had left his phone at home, so despite yours and mine best efforts to tell him he wouldn't be able to find the house, he ended up having to walk the village trying to find us! However, he made it.
Just after setting it up, I had to leave for work in London for a couple of days, but will get a good picture over the bank holiday weekend and send it on to you. I like it so much, I am working on getting rid of the bench and will order more chairs from you. My husband likes the bench so have a little work to do first!
Thank you again for your help, and my compliments to how simple and enjoyable the buying experience was – very refreshing!
---
"The Alexis table and chairs look fabulous and the chairs are very comfortable too. We are looking forward to many years of use.
I should add that your men who delivered and installed the table were very pleasant and completed everything efficiently and with a smile".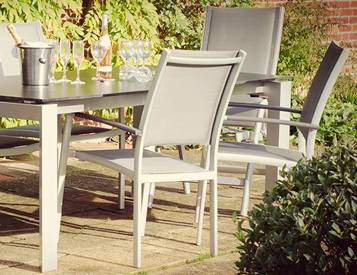 The customer wanted a large table that could extend to take ten chairs. Comfort in sitting for long, leisurely meals with friends and family was the most important factor for the choice of chairs.
---
"Thank you, so excited to see our new table and chairs on Saturday".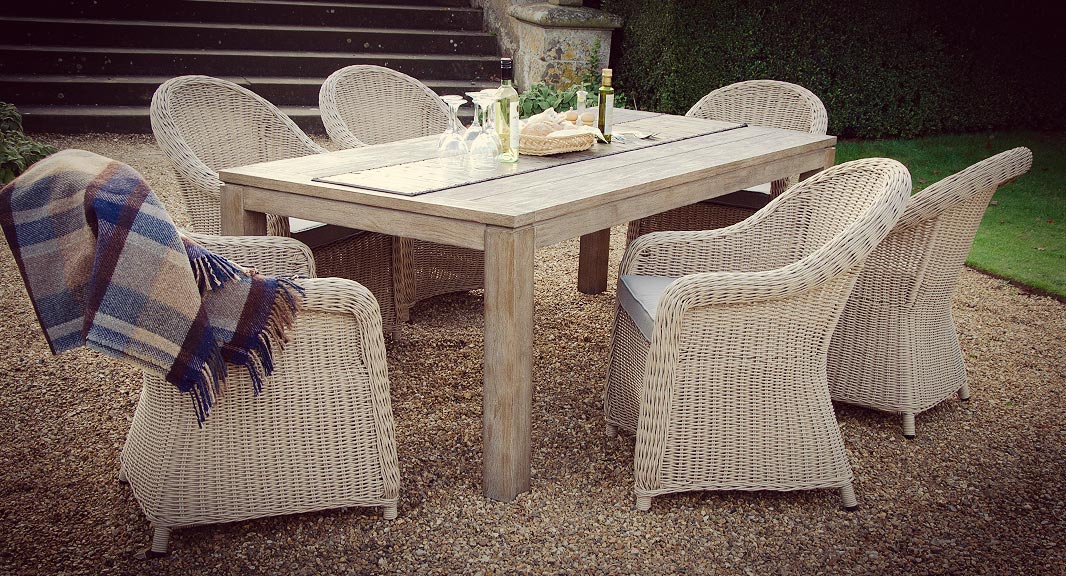 This was from a lady who had struggled to find what she wanted. She mixed complementary pieces, buying our Redon table with Redon arm chairs and a couple of Baumes chairs and cushions
---
"The furniture all arrived and looks great on the patio. Looks like the weather is due to be good again this week so it should get lots of use!"
From a customer who bought our pure teak Volonne dining table and stacking arm chairs. They wanted a table that would easily and neatly accommodate three chairs each side.
---
"Looks fabulous and thank you for the beautiful flowers".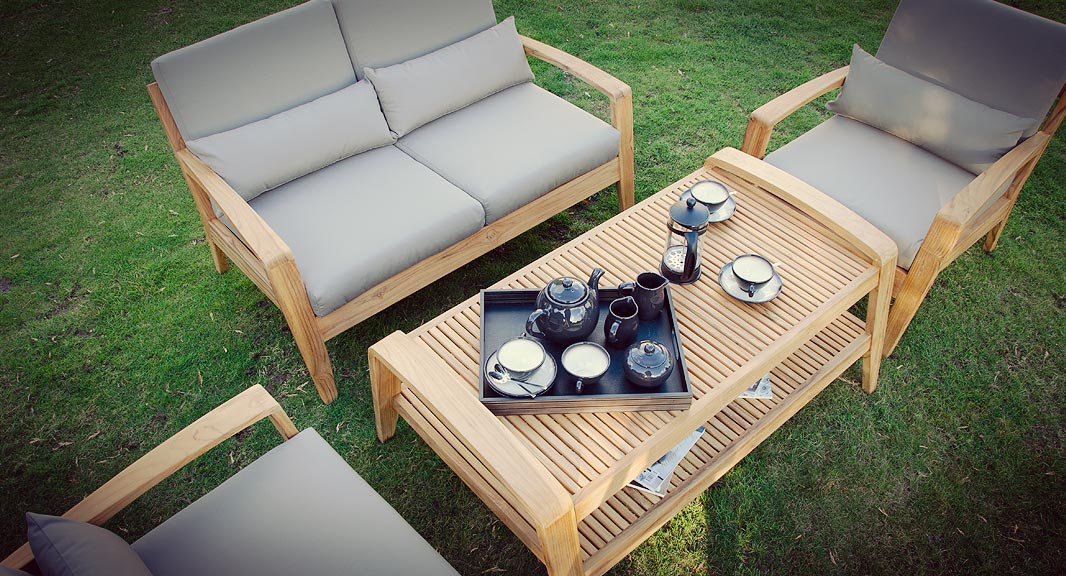 A customer who'd been waiting nearly a year for her building and garden works to be finished, persuading her husband to let her take delivery late in Autumn as she had waited so long already for the Jabron lounge set and Volonne dining set to finish the job!
---
"After seeing the chair in the suffolk magazine I knew I wanted it, I would like to thank Verdon Grey for their excellent service, I have already recommended them to my friends and family"- Baumes chair and seat cushion

The customer bought from Verdon Grey again a few weeks later explaining;
"Once again I would like to thank you for another successful order.From the initial online order, we once again, knew that we were in safe hands. Your constant communication meant that we knew exactly what was happening all the time.The delivery was made exactly as stated, and the delivery driver could not have been more helpful.The product is wonderful, your website easy to use and as a company I cannot praise you highly enough. Thank you once again for your excellent service."
---
"I am absolutely delighted with the Soleils coffee table and also the chairs and footstool. Delivery was within a few days of my order. The design and quality of the product are of a high standard. They were precisely what I had been searching for in vain until I happened upon your stand at the Barbury Castle Horse Trials. We have thoroughly enjoyed using them in the glorious weather." - Soleils Coffee Table, Chairs and Footstool.
This customer also dropped by an e-mail explaning how much she was enjoying her furniture- "Can't believe it the weather was so good today we had lunch outside again and we certainly wouldn't have bothered before we had our lovely furniture from you."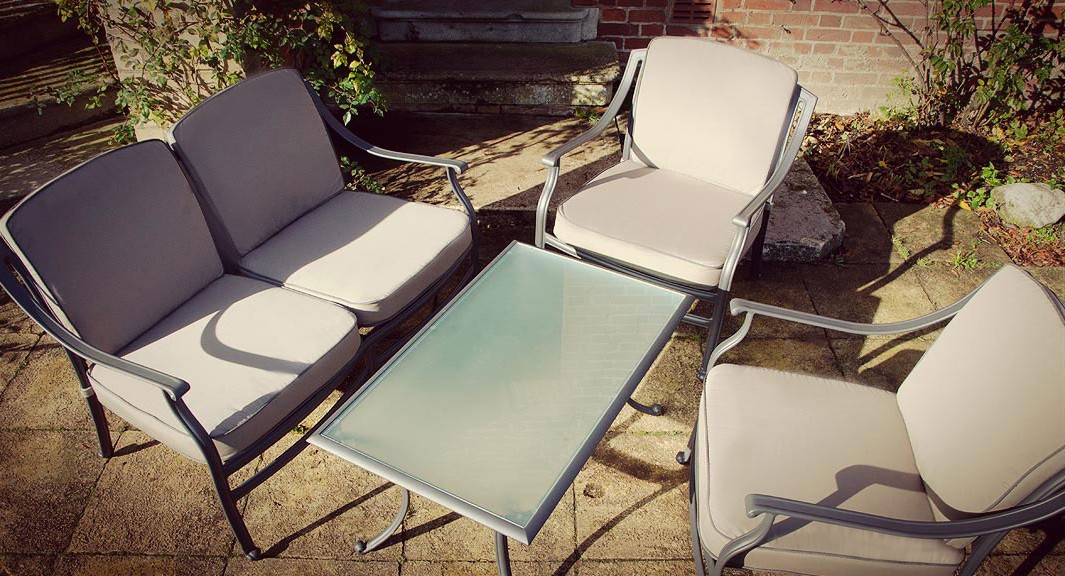 ---
"Just wanted to say that the furniture arrived right on time, together with champagne and sunshine! It fits perfectly in our garden, looks fabulous and we have already put it to good use." - Redon Table and Mirabeau Chair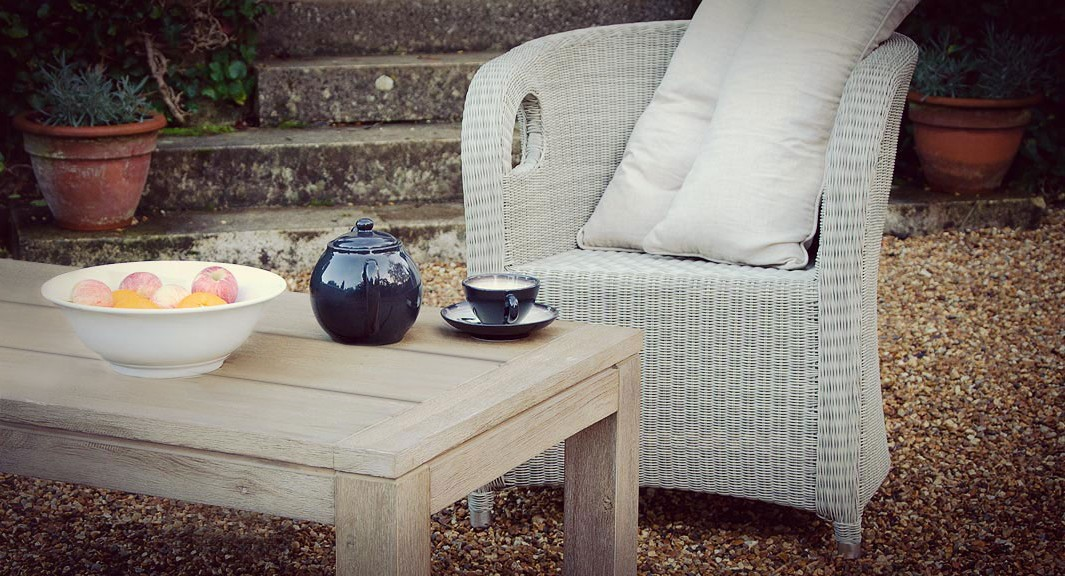 ---
Really happy with great quality furniture from Verdon Grey, we are so pleased with it