materials & aftercare
Verdon Grey strives to use the best available materials in their purest and most sustainable form. We pride ourselves on mixing materials to engineer the best performance and create distinctive designs.
TEAK
We use first grade teak from managed plantations. All our teak is FSC® (Forestry Stewardship Council) certified and thus, responsibly sourced. We know its provenance and that it is responsibly forested from certified suppliers. The process is overseen by the FSC, an international, not-for-profit organisation whose aim is to improve forestry management worldwide. Certified organisations are audited regularly to ensure compliance.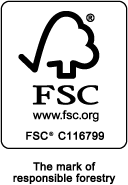 Look for FSC® certified products
With time, teak acquires a beautiful silver patina that complements any outdoor setting, you may also see the grain become more pronounced and fine cracks appear over time. This is a natural ageing processing. The high oil content in teak means that it is the best hardwood for outdoor furniture and it withstands the harshest weather conditions and is less liable to rot.
Teak requires minimum maintenance and we recommend that you leave it to age gracefully. Should you wish to retain some of the original colour, you will need to oil the teak at least once a year. It needs to be clean before oiling, so a light sanding before doing this will dislodge any dirt and give the best result.
STAINLESS STEEL
We use 304 grade stainless steel with a brushed finish for our garden furniture. It stands up to adverse conditions with very low maintenance and no deterioration. It will keep its smart appearance for a long time. No rusting or loss of strength will occur but staining can appear over time.
Cleaning with a stainless steel cleaner will restore the naturally glossy surface.
ALUMINIUM
All our painted metal furniture is made of thick sections of aluminium and these undergo a rust protection (galvanisation) process to avoid the need for maintenance. We then clean the surface and powder coat the aluminium to prevent oxidation. Our metal is virgin aluminium, not reclaimed, nor recycled. Aluminium is strong, lightweight and long lasting.
Should the layers become damaged, the metal can be repainted. A wipe down with a non-abrasive cloth and gentle cleaning agent is all that is required to keep the surface clean.
ALL WEATHER WICKER
All our woven wicker products are made by hand to traditional techniques. The synthetic wicker imitates the look and feel of fine natural wicker or thicker cane or willow but delivers outdoor performance. Hand woven over a powder coated aluminium frame, it is strong, durable, colourfast to the sun, rain and rot resistant and lightweight. The inherent "give" and breathability in the weave construction makes all weather wicker a very practical and comfortable choice that lasts.
To clean, the product can simply be hosed down or jet washed without any water damage. Use of a soft brush will dislodge any stubborn dirt or debris.
GLASS
All our glass table tops are made from tempered glass. This means in the unlikely event that the glass is broken, it will transform into small, rounded, harmless pieces. Although tempered it should always be handled with care. Our glass is etched on one side to make it opaque and to reduce the glare on a bright sunny day but retain its light translucency, giving a very contemporary, matt, opaque look. Alternatively, for a more traditional appearance, the glass can be turned over to use the clear, reflective side.
The glass can be cleaned using a clean, static free cloth with a proprietary window cleaner, or, the more environmentally friendly newspaper and vinegar combination.
TRESPA
Trespa is a high pressure laminate (HPL) designed originally for use by architects on the outside of buildings, so very weather and temperature resistant. Its non-absorbent surface resists mould, dirt and will not fade.
Requires very little maintenance beyond a wipe clean with a damp cloth before use.
BATYLINE & TEXTILENE
Textilene is a PVC coated polyester weave fabric that is strong, lightweight, non-fade, mildew resistant and requires very little maintenance. We use Textilene on some of our aluminium furniture to add comfort. The Arc and Deco chairs use it in single form. The Alexis high back chair uses it in double form with weatherproof padding inserted between for additional comfort. Different weaves give different colour and surface effects to the chairs, allowing air and moisture to pass freely.
To clean, the product can simply be gently hosed down or jet washed, removing the cushions first. Use of a soft brush or soapy cloth will dislodge any stubborn dirt.
CUSHION COVERS
All our cushion fabrics are FR (Flame Retardant) treated, so that your cushions can be used safely inside and out. We use yarn dyed acrylic and Sunbrella fabrics on our cushions and in our piping trims for optimum colour depth, durability, good abrasion resistance and fastness to UV in sunlight. In a smart taupe cover fabric, with a choice of double piped or non-piped finishes, contrast or self-coloured piping, our cushions add a sophisticated, finishing touch to your furniture.
The cushions are easily sponged clean and if you need to, the covers can be removed. Cushion covers should be stored in dry conditions to avoid mould forming. All our cushions are made in the UK.
REFLEX FOAM
All our cushions are UK made and filled with FR (Fire Retardant) Reflex foam in varying thicknesses dependant on the design of the furniture. This means that they can be used indoors or out. Reflex foam has a "memory" and recovers better than normal foam after use, ensuring years of comfort. All our cushions are made in the UK.
Cushion pads and their liners should be stored in dry conditions to avoid mould or mildew forming.